Main content starts here, tab to start navigating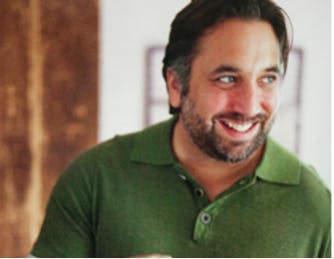 Marco Canora
Chef + Owner
As a chef, restaurateur, and cookbook author, Marco Canora promotes delicious, simple, and healthful food. In 2003, he opened Hearth in Manhattan's East Village, earning a strong local following and critical acclaim for his seasonal, Italian-inflected cooking. Hearth has a positive two-star review from The New York Times and a prestigious "Outstanding Restaurant" nomination from the James Beard Foundation and in 2017 Marco won the James Beard Foundation award for Best Chef NYC.

Marco is also the founder of Brodo, a popular to-go window serving coffee cups of hot, nourishing bone broths. Brodo, along with the recipes in A Good Food Day, reflect his renewed attention to his health and wellness (check out the story on that in the book's introduction). Marco's first cookbook, Salt to Taste, was a major success and nominated for a James Beard Award in 2010.

He has been profiled in The New York Times, Food & Wine, and was a finalist on The Next Iron Chef and a judge on Chopped and Top Chef. He has also appeared on Today, Good Morning America,Martha Stewart, and Nightline. He lives in New York with his wife and two daughters.